Weebly Blog Templates – How to Make your Blog Look Professional
by divtag - Categories: Tutorials > Weebly Tricks
Let's just say what needs to be said – Weebly blog template designs are pretty average… at best.
It's nothing personal…. oh wait, but maybe it IS personal…
A website design is a reflection of who you are, your personality, your taste, your ideas.  It's reflected in the color, the style, the finer details of how your website is put together.
Like it or not – it is you.
But here's the issue.  What if you're not satisfied with your blog's design?
We've heard from so many Weebly users that the designs for their blogs just aren't professional enough.  There just aren't enough options to style the darn thing.
But before we get into some potential options, let's have a quick crash course on how to build a Weebly blog.
How to Create a Weebly Blog
Inserting a blog page into your Weebly website is pretty straight forward.
When you are in your Weebly Editor, just click on "Add Blog", and a new blog page will be automatically inserted into your website.
Weebly has built in tools to help you add new posts, edit them, manage comments, categories and insert other tools such as social icons, contact forms, etc.
All those functions are wonderful.
(Click here if you want more details on how to build a blog on Weebly)
But what about design?
What about Blog Templates or Designs?
Although Weebly gives you the tools to create blogs, they don't give you any design options.
They are making strides to improving their template designs, but at the moment, each blog page you create still look pretty plain vanilla.
There is hope.
We've heard from many Weebly users who want better blog designs for their blog pages.  So we got busy and created 5 new blog styles that are fully compatible with Weebly websites.
Blog Skins for You
Unless you know how to code up designs for your Weebly website, being able to change the design for your blog page will be pretty difficult.
So we've done the hard work for you.
We call them Blog Skins.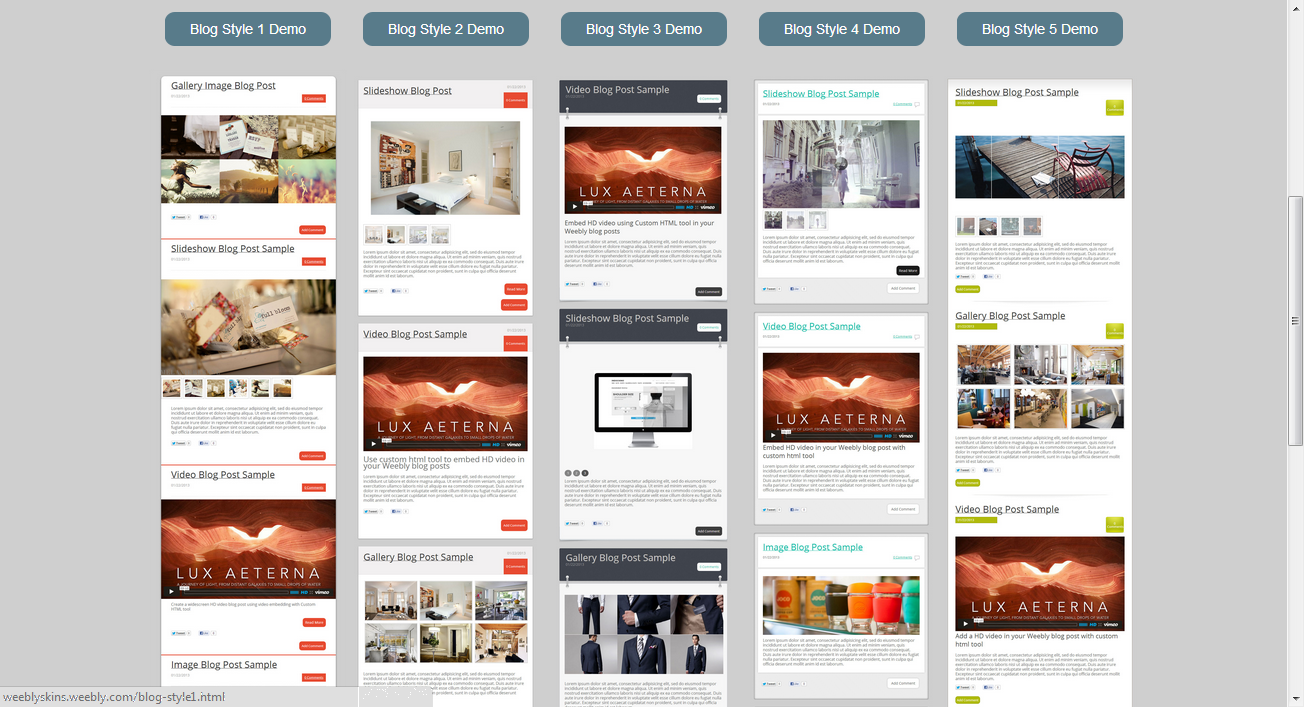 What "Skins" are, are basically clothing for Weebly elements.  So in this specific case, we've created clothes for blog pages so you can now have beautiful and professional blog designs in your Weebly website.
Our Blog Skins do not change how you would use and manage Weebly's blog.  So all the functions remain unchanged, such as how you add new posts, manage comments, etc.
What will change is the design on your blog page.  You can choose from any 1 of the 5 styles in the image above, and apply that to your website.
Go ahead and check out how your current blog page looks like, then imagine overlaying any one of the 5 skin styles into your blog page.
Our Blog Skins can instantly transform your blog design from just average (aka same as everybody else's design) to something different, special and helps you stand out from the crowd.
Interested in learning a bit more about how it works, what you get and how it can make you look good?
>> Visit the Blog Skins page (click here) to see how you can also transform your blog page.
Other Weebly users have been using them already – you should consider them as well!
---
4 Responses