How to Build a Professional Photography / Portfolio Website with Weebly
by divtag - Categories: Tutorials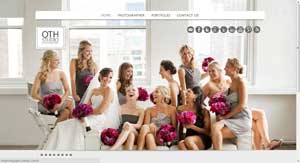 If you are a photographer, artist, or you just want to showcase your portfolio of design to the world to get more customers, spread your ideas, then this short tutorial (with our video tutorial below) will help and hopefully inspire you.
Building a professional, and eye catching photography / portfolio website is not as hard as you would imagine, especially with Weebly.
Weebly gives you all the fundamental tools to create a website, and they take care of all the technology mumbo jumbo that comes along with websites (techie stuffy like hosting, security, publishing, etc)
So now that you have the "tools", what about making your photography or portfolio website look good?  Just because you have a bunch of images on the website, doesn't automatically persuade your ideal visitors to return to your website, or even stay on your website for more than a couple of minutes.
Fear not.  Remember, you are artistic and so you naturally have an "eye" for design.  You just need the tools, and a few sources of inspiration to get going.
Premium Templates for a Head Start
Now that you have a website builder to help you with technology, you just need to put some "clothes" on your site.  Something professional, eye catching and represents who you are.
Our premium Weebly templates is another great foundation for you to jump start your website.
Many people think that they can just buy a template and that's it.  Well, it could be, but not you.  With the flexibility of our templates, you can customize it with our tutorials and other add-on's until your hearts content.
Now that we've had our "shameless" promotion of our products out of the way :), let's dive into what give you a bit of an inspiration to get your website going.
It Really Isn't Rocket Science – Here's Proof
To show you that you can literally get your website up and published within a day, here's a video that we put together that shows you from beginning to the end, how to build a photography related website.
No tricks, no fast forwarding, just a bit of pre-filming preparation such as getting your images ready for uploading.
It's only 9 minutes, and you can see just how powerful combining Weebly our templates could be for your website – it's faster than brewing a fresh cup of coffee.
Here's the link to the actual website we built in the video
Yes – you can do this too!  Get started by selecting your favorite template!
Let me know what you think in the comments section below!
---
6 Responses