Weebly Shopping Cart – Does It Work?
by divtag - Categories: Other > Tutorials > Weebly Tools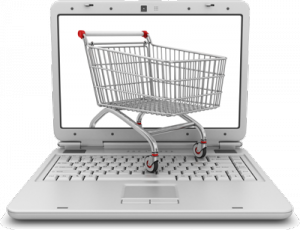 Based on feedback from our customers, they have a "love-hate" relationship with Weebly's shopping cart.
Let me explain (we also have some Weebly eCommerce examples later, and we'll go over some external shopping cart tools).
Love-Hate Relationship with Weebly Shopping Cart
We ran a poll on what sort of template designs our visitors would love more of, and one of the top results was e-commerce.
Not shocking since there are a lot of entrepreneurs who currently have or would love to create online stores.  There are certainly a lot of e-commerce focused website builders out there in the market, but none of them can rival Weebly's ease of use.  None.
On the other hand, Weebly's current shopping cart (at the time of this post), quite frankly, needs a lot more sophisticated functions.  I'm saying this because we've received hundreds of feedback on this point.
Weebly's Current Shopping Cart
Weebly's current shopping cart functions are limited to integration with PayPal or Google Checkout.
Love them or hate them, PayPal and Google Checkout are both very reputable.  However, they don't quite have the sophisticated functions that are offered up by other dedicated shopping cart providers. (We'll share some external / independent shopping carts that works with Weebly below)
PayPal and Google Checkout doesn't allow you to fully manage inventory, it's hard to configure shipping details, and they don't have an integrated email system where it allows you to send out automatic "thank you" or "process" emails to customers.
As a consumer, when I buy something online, especially physical goods when I'm expected to wait days or weeks for shipment, I want to know exactly what is happening right away, not just some receipt from PayPal and Google Checkout.  Not good enough.
I want re-assurance from the online store, I want shipping details, tracking numbers, everything.
Unfortunately, this is precisely why there are a lot of complaints on why Weebly doesn't have a more sophisticated shopping cart system.  It's something they're working on – we know this as a fact and we eagerly await for their updates!
Enough Whining
But enough complaining – we know Weebly is busy building something, and we're pretty sure it's going to be awesome since they make everything super easy – that's why we love them, right?
So what are some Weebly users doing right now?  Are they just sitting back and waiting?
No sir.  A lot of our fine customers are actually online stores and they're well and alive!
Weebly eCommerce Website Examples
Here are just a few examples that we've showcased in our Showcase page.  They're all using PayPal as their shopping cart and 1 of them is using an external shopping cart plugin which appears to be MUCH more sophisticated:
1) Super Skivvies (http://www.superskivvies.biz) – they are using a 3rd party shopping cart plugin called Ecwid – looks sophisticated
2) eSpanish Teacher (http://www.espanishteacher.com) – they're using PayPal along with e-Junkie (which we use ourselves and we have a video tutorial here)
3) Ragz NL (http://www.ragz.nl) – they're using PayPal but they also linked their website to their Etsy store (Etsy is a large online market place)
4) We don't have an example for this, but Wazala shopping cart is also compatible with Weebly websites.
So even though Weebly can definitely improve their shopping cart functions, Weebly users are doing just fine with the current set up.  
Final Thoughts
Yes, there is much room for improvements, but don't let that stop you from building your online store.  After all, being able to work through some limitations is a core attribute to entrepreneurship.
So get off your butt and go build an online store!  Weebly makes it easier than ever to make this happen.  So when they publish their new and improved shopping cart functions, your store will be in a position to benefit from it.
Video Tutorial – How to Build a Weebly ECommerce Website
Here's a video tutorial on how to build an online store with eCommerce shopping cart in a Weebly website.  This video will go through the basics of how to get Weebly configured to start building your website.
You can also access the video on our Weebly e-Commerce tutorials page here.
---
4 Responses